Drew's Whips
The Gallery

NEW!!

Some whips by Drew, all in kangaroo...
WOODIES
The three whips on eBay last year...

Snakewood
Mopane
Ebony and holly, unmatched matched pair
Macassar ebony
Osage orange
Kingwood
Bocote
Curly maple
Lacewood
Goncala Alves
Pink Ivory
Purpleheart
Sneaky Pete
Varigated Cocobolo

SNAKES, STOCKS, AND BULLS
Matched pair, black and purple
Tiger stripe
Matched pair, brown on brown
Red and blonde
Brown on Brown
Natural tan with 1/2 plait handle
Black snake

Welcome to my gallery. What started as 'something I always wanted to try' has turned into an obsession, whip making.

As this obsession has evolved during the past few years, I have found another source of enjoyment, turning exotic woods. Inspired by the Wheatly wooden handled whip, which were often maple, I'm trying to make my niche the exotic woody. It seems like the different kinds of woods are endless, but my favorite is Costa Rican cocobolo. I've got a good supply of different wood that needs turning, so that's what you'll see on eBay from time to time. I don't take orders.

My whips are made of kangaroo, a magnificent creature. It is unique in many ways, but it has a hide like no other beast. Kangaroo hide is far superior for making whips in several respects than other hides because of its thinness and strength (up to seven times stronger than cowhide). It's strength comes from the fact that when one looks at the cross section of a the hide, the grain of the leather is parallel and uniform. Looking at a cross section of cowhide, the grain appears to be random. Think of it as the difference between cast steel and forged steel. Kangaroo hide does not hold up well to rocks and metal, it cuts and scuffs easier than cowhide. The first few whips I made were from cowhide, but once I tried kangaroo, I never went back. Cutting out the hide with control requires knives of incredible sharpness. If you can't easily shave the hair on your arm, you're wasting your time.

When one plaits (or braids), two layers are created because the strands are laid under and over each other. All the leather is put through a splitter to 'knock off the high spots'. Each whip I make comes from one hide whenever possible, ensuring the overlay is cut from the best leather, that being the center of the hide.

What makes 'em crack?
In a nutshell, conservation of energy creating a sonic boom. A good whip should have a slow taper the length of the whip. When a hairpin curve is imparted on the whip, the curve goes faster and faster as the diameter of the whip gets smaller. By the time the curve reaches the cracker, it can be traveling over 1400 feet per second, well past the speed of sound (somewhere around 1100 feet per second). Air molecules are compressed and a small sonic boom is created.
People are often amazed the first time they hear a well made whip crack (there are a lot of cheap ones out there that go whoosh, not bang). Similar to a .22 pistol, it can be deafening if you're standing in the right place. In skilled hands, a blow from a whip can break bones and easily cut skin. Cutting an apple or potato in half is no problem with a good, accurate throw. On a good day, I can throw an apple up in the air and split it in half maybe once out of five tries. Learning to crack a whip can be a very humbling experience.

A word about my whip list. When I put a whip on ebay, I send out an email to all that are on my whip list notifing the receipents that it is available and where it can be seen. I use a 'blank carbon copy' so that ALL E-MAIL ADDRESSES ARE KEPT CONFIDENTIAL. The only e-mail address seen is my own. If you want to be notified of my whips as they go up for bid, please don't hesitate to email and let me know. I don't expect you to bid just because you are on the list. I plan on using a variety of woods for handles over the next few months.....
This page is continually under construction.


Some great whip links...

Mike Murphy - a master at the art

Bullwhip FAQ - a very good site with a wealth of information about whips

Whip Enthusiasts - these guys are serious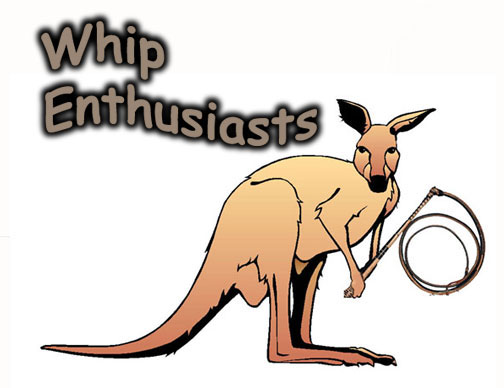 more to come...

If you have any comments, questions, or want to be added to my whip list, email me!
drew@drewswhips.com
Adam Crack came for a visit in May, here's some good whip cracking video....
Adam with a 22' Murphy bullwhip
Some of my youtube videos...
Graphing and catching walleye on Stockton lake

Bell's links....
Bell's family (her picture is at the bottom of the page)